---
---
Celeriac (Apium graveolens L. var. rapaceum)

Carrot family (Apiaceae)
---
A: root of a one year plant in Autumn
B: the same; longitudinal section
(Sp=shoot, H=Hypocotyl, W=root, R=rind,
K=cambium, Ho=Xylem)
Leaf, cut and root celeriac

Source: Becker J., Gemüsebau,Paul Parey Verlag 1956; Wolf-Garten
---
Distribution, Yield, Use:
Distribution:
Grown world-wide, especially in Europe, Southwest Asia, Siberia, North Africa and North America. Requires rich soil and humidity.
Yield:
150-400 dt roots
Use:
- roots cooked, prepared as salad
- leaves as seasoning for soups, sauces, salads
The roots contain 7-8% carbohydrate, 0.3% fat, 1.5% protein, essential oils.
---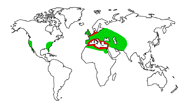 Region of origin:

Region of cultivation:

---
Cultivation and Breeding:
Cultivated celeriac originates from wild celery (var. graveolens), which is found in the whole mediterranean area and in North Europe on saliferous soils. Celeriac was already used in early history by the Egyptians, Greeks and Romans, chiefly for religious purposes, and was first cultivated in the mediterranean area. Celeriac first achieved importance as a vegetable plant in the middle ages. Through breeding and crossing, the root, which comprises one third each of main root, hypocotyl and shoot, has been increased in size.
Breeding aims:
Important breeding aims are higher root yields, firmness of the root, good taste, shoot stability, resistance to fungal diseases and reduced tendency to become hollow and discolour. Smooth surface and small leaf and root connections should reduce the cleaning work.
---
Text by Wolfgang Schuchert
Adapted to HTML by R.Saedler
---